PANJIT launches automotive grade and high reliability TVS in robust, low profile series packages
Adopting EPI (Epitaxial) planar technology and meeting AEC-Q101 qualified for automotive applications
PANJIT has rolled out a series of E-type TVS products using EPI (epitaxial) planar wafer process technology, which has the characteristics of high reliability, high surge, low Vc, low IR, and low profile package. This new generation of E-type TVS series product has the characteristics of much lower reverse current and better clamping voltage capability than traditional wafer process technology.

PANJIT's E-type TVS product range is from 150W to 600W currently and using four low profile package types, such as SOD-123FL, SOD-123HE, SOD-323HE and SMAF-C, which can help save a lot of space on the printed circuit board when doing circuit design. The new TVS device series meets the AEC-Q101 standards and is suitable for automotive applications as well as other applications, such as consumer electronics, wearable devices, and household appliances, etc..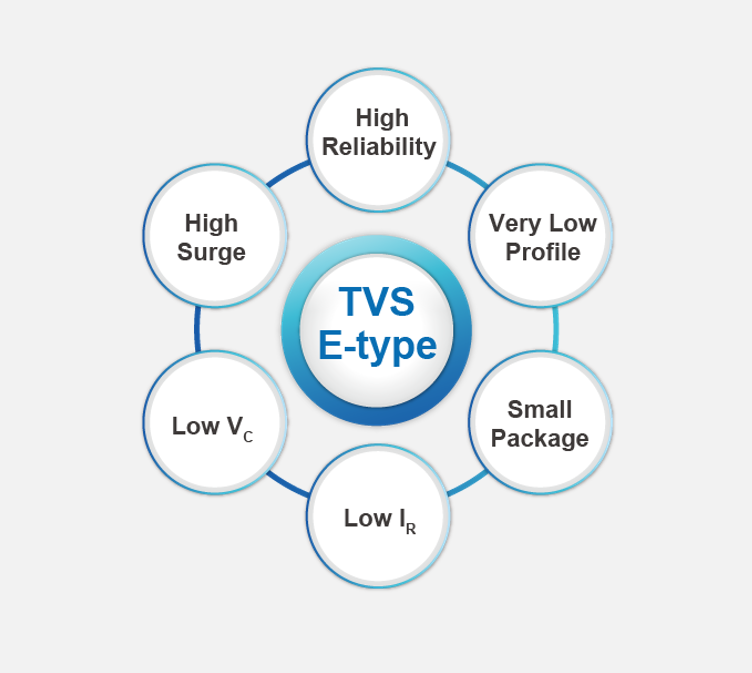 E-type TVS Features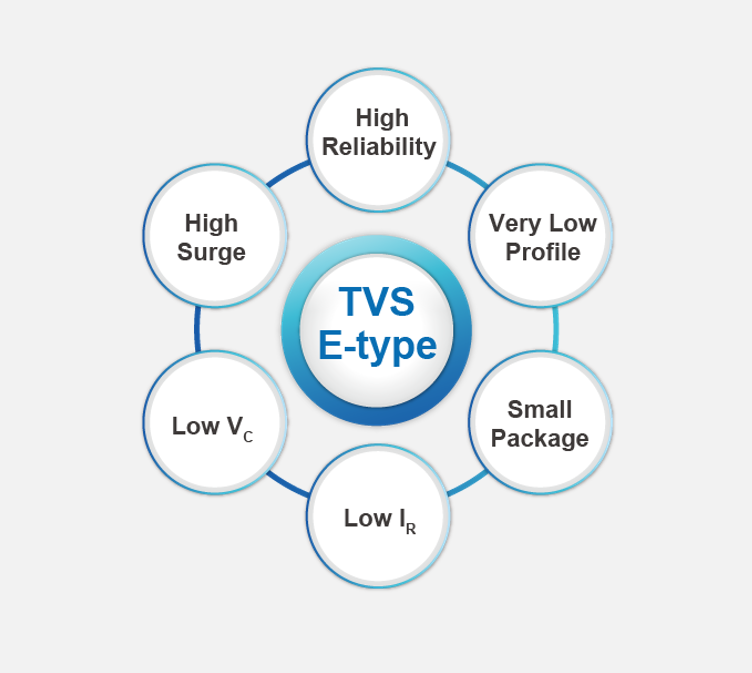 • High surge and low profile package
• Ultra low reverse current
• Excellent clamping capability
• EPI (Epitaxial) planar technology
• Oxide planar chip junction
• AEC-Q101 qualified
• High temperature soldering
• Lead free in compliance with EU RoHS 2.0

Application

• Automotive
• Computer
• Laptop
• Tablets
• Smartphone
• Wearable
• Consumer

PANJIT's E-type TVS Family


Space-efficient Dimension Design


Electrical characteristic comparison

More information on PANJIT's new E-type TVS devices including product specifications and recommended devices, please see as below download file of related links.
If you have any sample requests, please feel free to contact the local sales or email to sales@panjit.com.tw. Thank you!