PANJIT launched high efficiency H-type Schottky product portfolio
150V, 1-30A Planar Schottky Barrier Rectifier at maximum junction temperature of 175°C
PANJIT has launched new H-type Schottky product, which has the advantage of performing low leakage current during high junction temperature operation by using planar with Pt barrier wafer.
The reverse loss reduce due to the low leakage current during high temperature; the VF decrease because of the high junction temperature which helps improve the forward loss. Therefore, PANJIT's H-type Schottky is suitable to use at high working environments to achieve the best performance.
PANJIT's H-type Schottky provides a series of 150V and 1-30(A) product portfolio selections, and covers a variety of package types; such as, SMA, SMB, TO-252AA, TO-263, TO-220AB, and other robust package options.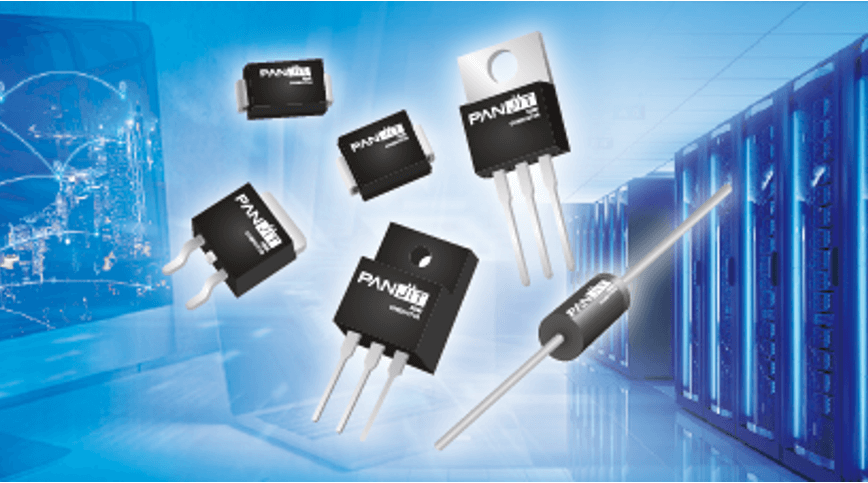 H-type Features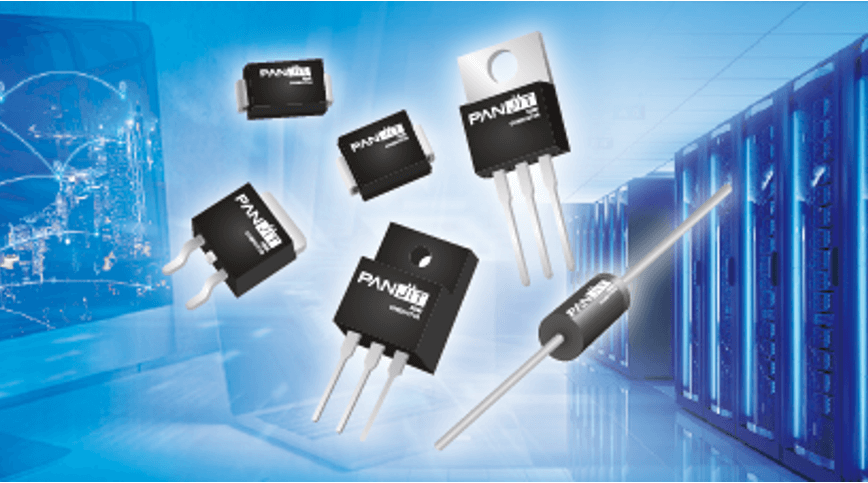 • Ultra low reverse current at high temperature
• Low forward voltage drop at high temperature
• High efficiency when high junction temp. operation
• Low power loss, high efficiency
• High current capability
• Maximum junction temperature of 175°C
• Planar wafer technology

Applications

• Lighting Power
• TV Power
• Battery Charger
• Industrial Power
• Adaptor

Product Advantages


37V/3.5A LED TV Power: MBR10H150FCT performance benchmark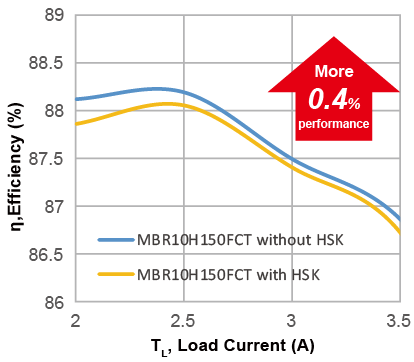 H-type Schottky can achieve high performance when operating at high junction temperature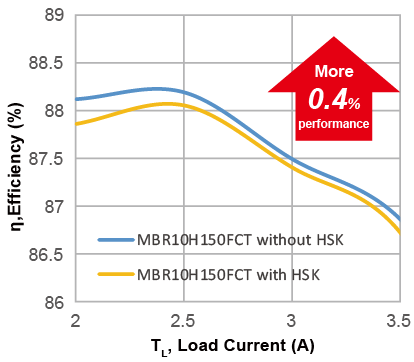 H-type Schottky Rectifier has capability of high junction temperature, which can get excellent performance when it is worked at high junction temperature. The high junction temperature can be obtained by reducing the size of the heat sink or removing the heat sink, which in turn enhances product's performance and saving space and BOM cost of circuit board.
More information on PANJIT's new H-type Schottky devices including product specifications and recommended devices, please see as below download file of related links.
If you have any sample requests, please feel free to contact the local sales or email to sales@panjit.com.tw.